How-Tos
Adding Facebook Chat to Pidgin!
---
Pidgin is an all-inclusive instant messenger program that allows you to connect with a variety of your online accounts to keep in touch with family, friends and more. Pidgin supports all the major chatting programs online, including Google Talk, AIM and Yahoo.
It also allows you to connect with your friends on Facebook. You can connect Facebook Talk to your Pidgin account. You can even set up multiple Facebook accounts to be able to use Pidgin to keep in contact with those on your friend's list.
Besides Facebook, Pidgin supports other popular chat protocols like AOL Instant Messenger, Bonjour, IRC, MySpace IM, .NET Messenger (such as MSN or Windows Live), Skype (with an, additional plug-in), XMPP (this includes Google Talk and LJ Talk) and Yahoo.
You can add Facebook chat, along with those listed above relatively easy. We will walk you through the process for adding Facebook chat, but if you are interested in adding other chat protocols you can visit Pidgin's web site or the web site for your chat program to find the steps to add it.
Before you begin to add Facebook chat to Pidgin, you must set up a username for your Facebook account. You cannot connect your Facebook to Pidgin otherwise. If you have not already done so, you want to login to your Facebook account. Click on the "Account" button on the right side of your screen. Then, click on "Account Settings."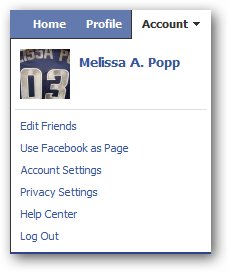 The first two options "Name" and "Username" are what you are looking for. For Pidgin, you want to input the "Username." If you have not selected a Facebook username, you want to choose one now. This can be your name, nickname or other alias.

Once you have changed it, you can begin to link your Facebook chat and Pidgin together.
Adding Facebook chat to Pidgin
Facebook utilizes the Jabber/XMPP protocol to offer instant messaging when logged in. This means that most third party chat programs can add Facebook chat if they utilize that same protocol. Pidgin uses the Jabber/XMPP protocol, so you can add Facebook chat it fairly quickly. Adding Facebook chat to Pidgin makes it easier for your friends there to keep in touch with you.
Since you have to stay logged into Facebook to use the chat, being able to add it to Pidgin allows you to navigate away from the site but still keep chatting. The first step to adding Facebook chat to Pidgin is to open the chat program up. This will be located in your "Start Menu" and either pinned to the menu itself or in a program folder. Once you locate it, open up Pidgin and wait for it to load.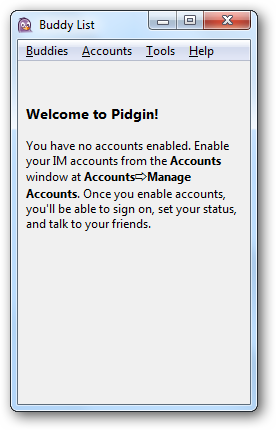 Once opened, you want to click on the "Account" link at the top. Navigate to "Manage Accounts."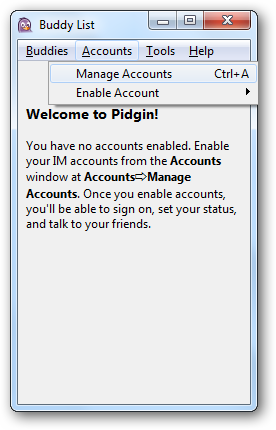 If you have any other Pidgin-linked account, they will show up here. I have two Google Talk accounts hooked up through Pidgin currently. In order to add Facebook chat, you want to click on the "Add" button at the bottom.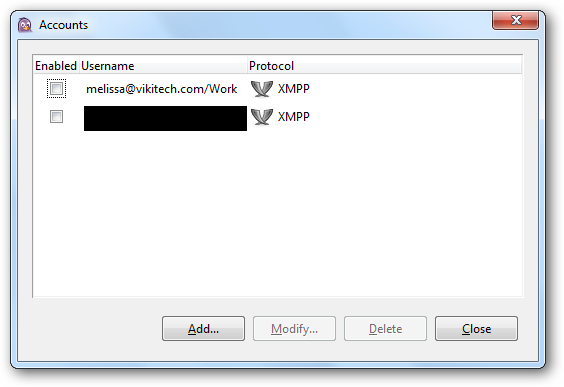 Now you have opened the "Modify Account" tab. Here, you can change the Basic, Advanced and Proxy settings for a connection and add it to Pidgin. The "Basic" tab should have opened for you. This is where you put in the basic details of your Facebook account.
You need your Facebook username and password, along with the chat domain to Facebook. The chat domain to Facebook is "chat.facebook.com." Once you have entered your Username and Password into Pidgin, you want to use "chat.facebook.com" for the "Domain" entry. Use "Pidgin" as the "Resource." Your "Local Alias" can be what you want others to see when they talk to you. Click "Save," then click on the "Advanced" tab.
The only setting you want to change here is "Connection Security." You want to change it to "Use encryption if available." This will take how Facebook uses security and apply it to your Pidgin-based Facebook chat account. Click "Save." You can peek into the "Proxy" tab if you want, but you want to leave all the settings there alone.
You have now successfully set up Facebook chat with your Pidgin client, so you can talk to all your Facebook friends without being logged into the site. Now you want to click on the "Account" tab again on the main Pidgin screen.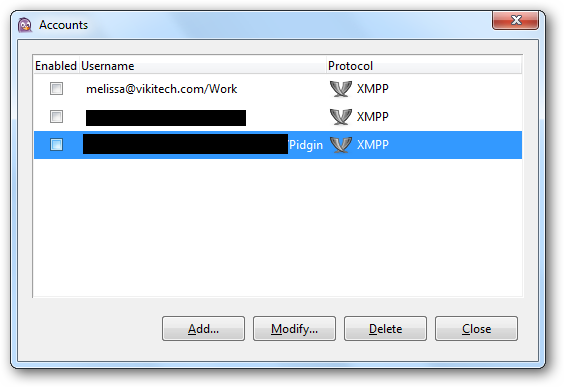 You will see your Facebook account on the bottom, you want to click on the "Enabled" checkbox. This will begin to log you in. Pidgin will ask you in a pop-up if you accept invalid certificate from Facebook. This is a security precaution to make sure you are not always connected securely to Facebook chat. Click "Accept" to continue.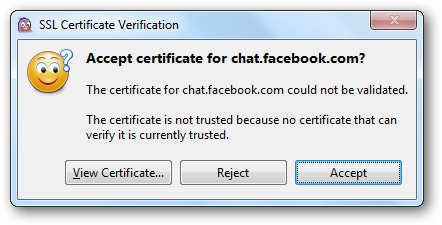 Your Pidgin buddy list will fill up with your Facebook friends. If they are online, they will have a green light displayed next to them. If they are idle or away, a clock. You can then use Pidgin like you normally would to talk on Facebook chat.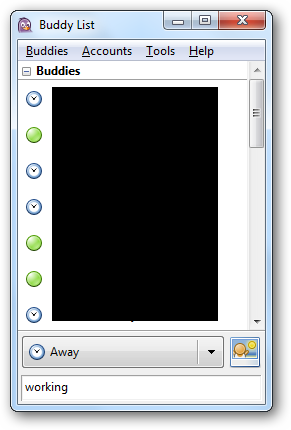 Conclusion – Should you add all your chatting platforms to Pidgin?
Pidgin is an amazing little program that can consolidate all your instant messaging needs. If you find yourself utilizing more than one chatting program when on your computer, looking into how Pidgin can make your life easier is a good idea. Pidgin allows you to chat on most major instant messaging platforms.
It is easy to set up, takes a few minutes to configure and before you know it your life chatting online will be so much easier. Facebook is just one component you can add to Pidgin.