Android
DriveSync – A premium Android app to sync your Smartphone
AutoSync for GDrive helps synchronizing DATA over to cloud
---
Time! a key element that does either good of evil depending on one's will. Few weeks ago, I purchased a new mobile (Redmi Note3) and it felt into salt water (sea) making no possibilities for a recovery. I have not used it for more than a week and transferred all the DATA from my previous device by then. I reckon, destiny has written its last evil words. Well, from a mistakes approaches a learning curve.
So, what have I learned?
My director use to say, "Backup is very critical, be it a user, server or a handheld, you can never have enough of them". It is true, users take multiple backups and never delete them for certain time, right? Nevertheless, what I learnt is take a backup or just turn cloud backup feature on the smartphone to save ourselves falling into a disaster. Sadly, I did not and even as a tech professional, I tend to miss such little factors.
What did I follow to overcome this in FUTURE?
Users needs vary even for a simple backup feature. Likewise, I did had my own thoughts to have DATA backed-up in a way that it does a mirror of my phone, or at least some of them. Pretty simple! I compared cloud storage options and made my decision to go with Google Drive. Why is that?
Most of my services are connected through Google account
Google initially provide 15GB free as an entry level
Google Drive is the only source that has reasonable plans
Support for major platforms and fulfills my requirement
However, none of the cloud storage providers (including GDrive) support customized folder sync. Duly, I had to find a way to achieve this. A bit of Google'ing took me straight to the results displaying DriveSync, a third-party application which does what I require. GDrive is a bit sticky with its native client on desktop, but DriveSync being a middle-ware application, it is pretty nifty.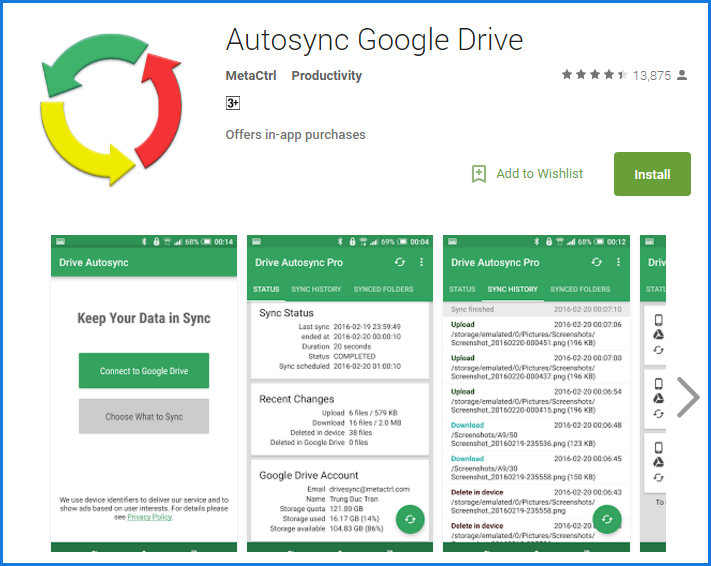 DriveSync over Google Drive
Why DriveSync? why not GDrive?
As explained, Google drive does not sync DATA outside its core, be it on a handheld or a workstation. Furthermore, Google has its native "photos" app to automate user's camera clicks over to the cloud. As for me, I have a set of folders that requires attention and a proper backup, at least once a day. Hence, I decided to make a use of an application and a service that fulfills my need.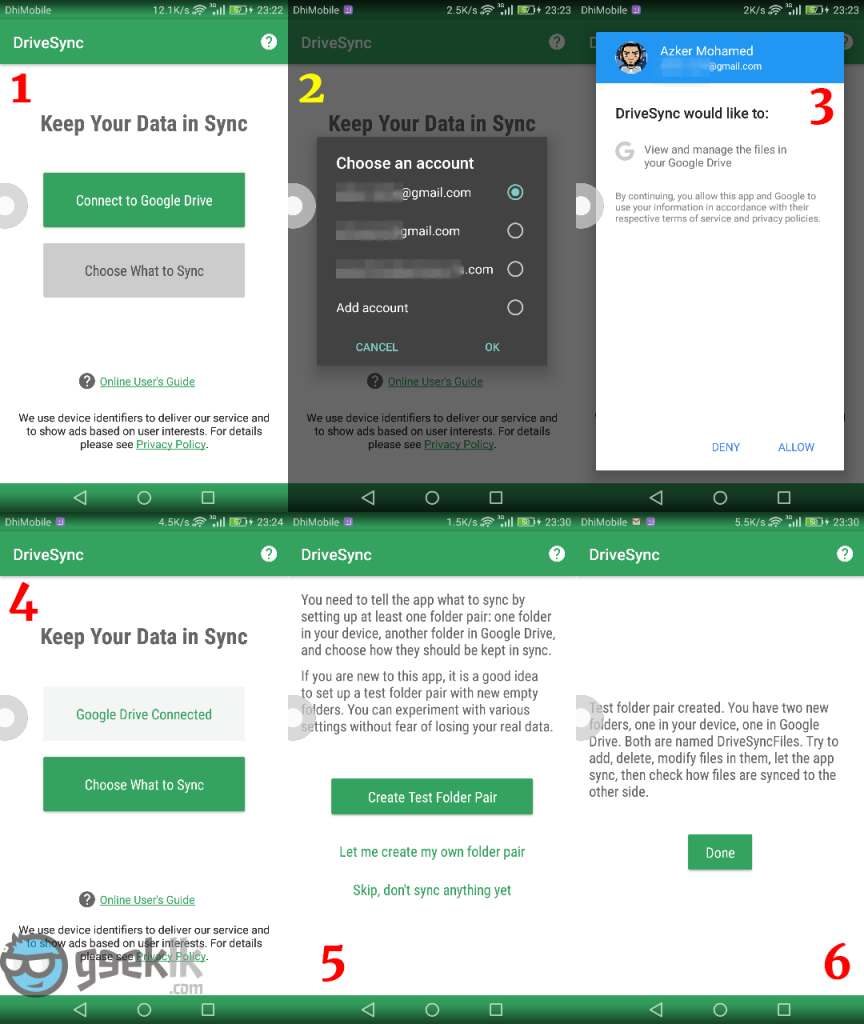 Set-up is pretty straight-forward, hence I won't bother explaining much. Above contains 6 images self-explaining each of its process from connecting the account to creating a folder pair. What you need to know is, only a single folder pair is possible on this free app whereby the premium option unlocks to an unlimited pair along with ads lifting. Moving forward, there are few more options that includes in the PRO as well.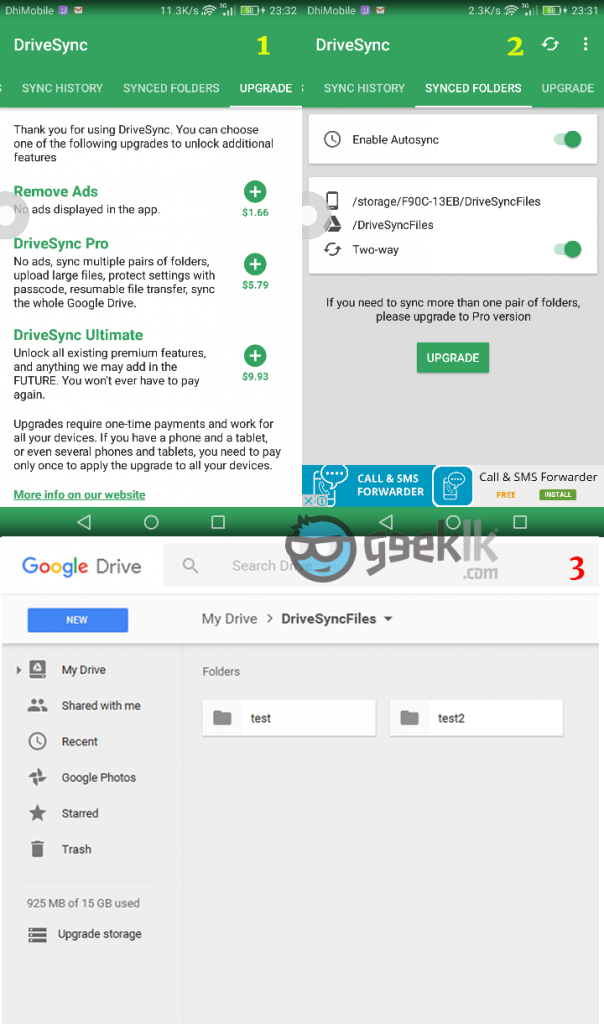 Seen above is a quick view of the app with a test folder pair that I did to one of my account. It also explain the PRO features along with its reasonable pricing which is one time. What I did was a simple two-way mirror which worked well and the application does provide various sync methods. After several tests, I decided to purchase the DriveSync Ultimate option since it includes all future features which may come in handy, who knows!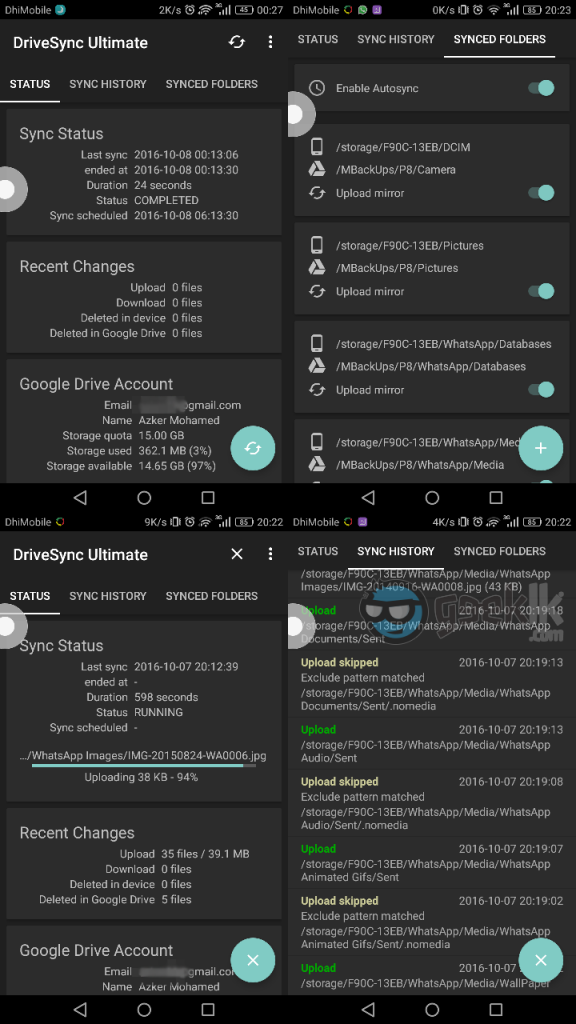 Soon after the purchase, I started populating the pairs while referring through the options. Seen above is the outcome of the application. And I must say, the performance of the application is exceptional. The developer of this app has also built apps to use with various other cloud platforms such as Dropbox, OneDrive… etc. I would suggest making a visit to developer's website to review options that would best fit your needs.
Author's comments
I'm a satisfied user with this application and never had to worry about loosing files anymore. Nevertheless, I would like to share few glitches and issues that I have found while using it.
When user requires to stop the sync, it take multiple clicks to stop the sync and the response even takes sometime

Application provides a password protection and wouldn't accept the provided key at once, requires multiple inputs

Deleted within GDrive are moved to trash. Hence, a manual delete is required to avoid space consumption (not the app to blame, but a nice to have feature if possible)

Exclude patterns are impressive and confusing at the same time. It takes a while to digest in and understand the patterns
Lastly, I would like to confess that the application developer has a nifty website with all the required information. Also, his responses over email and social media are so instant.