Networking
pfSense – Configure Dynamic DNS with NoIP
---
pfSense is few of the most powerful yet, open-source software based firewall you can ever find. It serves and consists of most of the requirement an individual or an SME requires. However, I would not recommend such solutions for an enterprise level use with much higher expectations as pfSense might not fit into the bucket. Nevertheless, you might need to look into their hardware firewalls available with golden support for enterprise users, which I would recommend instead.
For a user like myself, it pretty much does what I require from filtering web requests to doing a VPN from anywhere outside the world. You can even use at a small working environment much of required feature set in place. Trust me, it just works. That said, let me roll back into what I was discussing about. Most of my office branches are enrolled with very less users, hence spending a massive amount on high-end hardware such as firewall, managed switches… etc are just over kill. So, I mostly prepare VMWare's ESXi (free edition) with the required servers in place such as firewall (pfsense), Active directory (domain) & file server along with proper back-ups in place for both the DATA & VMs. This pretty much does the job. 🙂
Now comes the part where my attention and support required at times when they're in trouble. This means either a remote session or a physical visit is required. To avoid wasting time for simple issues, I use VPN to connect to the network to troubleshoot or to support remotely. You might say, why not use Teamviewer or a similar remote tool to support. Well! using VPN is secured and I prefer that rather than a random software. I will capture VPN configuration using OpenVPN in another post sooner as the main purpose of setting up Dynamic DNS is to VPN in. For now, let's do the Dynamic DNS set-up.
Setting-up Dynamic DNS on pfSense
Set-up a free account at No-IP as they provide up to 3 hosts on a free account and it works flawlessly without any issues. Once the account is set-up navigate to the dashboard and select Add Hostname and fill in the details (see below image and directions)

As seen above, navigate to Dashboard and select Dynamic DNS (free) and then select Add hostname on the right column which then gives a pop-up to proceed with
Call a meaningful hostname by choosing any domain with the drop-down (domain names are just for resolving purpose)
Record type should be A record as we just need our ISP given dynamic IPs to be resolved to that given hostname (note: if your ISP is providing ipv6, the record type should be AAA)
IPv4 address should be your router's current IP address (or the IP that is visible in your pfsense's WAN interface)
Add the hostname and that's it
Please note, I have bridged my ADSL router and used pfsense's PPPoE interface to dial so that I can get the public IP on the WAN interface. Otherwise, I have to work out with additional routing and NAT'ing in order to get these working, which is quite a round trip.
Once that is all set-up, login to your pfsense router (see below images)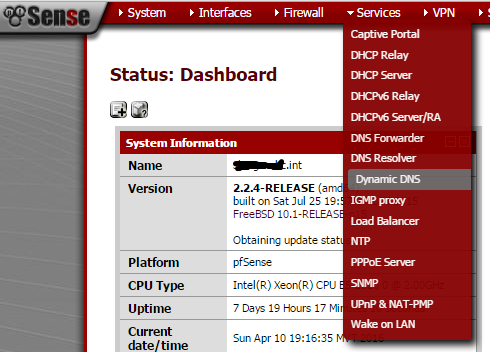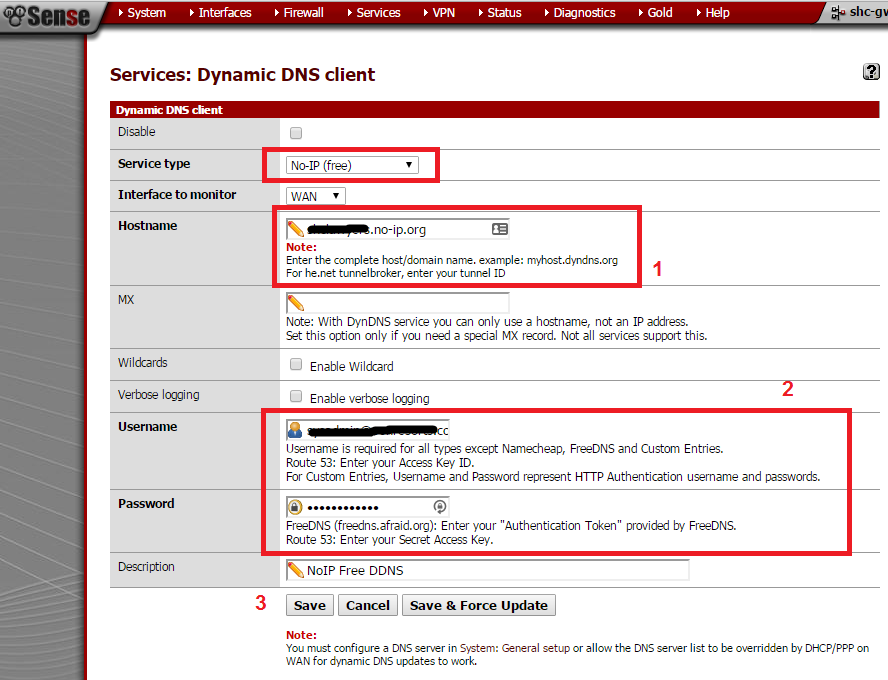 On your pfsense firewall go to Services > Dynamic DNS and add a new client.
Select the Service type as No-IP free and the interface is WAN that requires monitoring, then provide the hostname with the domain that you have created in No-IP dashboard.
Authenticate your session by providing your account details of No-IP
Save it with a force update or just save it if the IP hasn't changed
If things go well, you'll see below status with a the IP cached.

Now we're good to go ahead and set-up the VPN service. Hold still, VPN steps will be available sooner. 😀